OET 2.0 ( Occupational English Test )
OET 2.0 ( Occupational English Test )
The Occupation English Test (OET) has revised its exam structure with effect from September, 2018 naming it as OET 2.0.
Focus Academy believes in giving the best coaching by keeping itself updated with the latest. Hence we have prepared and trained ourselves for the new version OET 2.0 with sample tips and techniques and practice materials.
Like OET, Occupational English Test 2.0 (OET 2.0)is given by healthcare professionals who aren't able to score the desired bands in IELTS. No doubt there are changes in the new version but it is still used to assesses the candidate's language communication skills who wish to register and practice in an English – speaking environment.
So if you are inone of the fields which includes dentistry, dietetics, medicine, nursing, occupational therapy, optometry, pharmacy, physiotherapy, podiatry, radiography, speech pathology, and veterinary science then this exam is better to opt as it is designed keeping these professions in mind.
The various organizations accepting OET 2.0 grade are in UK, Australia, New Zealand, Ireland, Singapore, and Dubai.
Now let's have a closer look at the OET 2.0
The OET 2.0 consists of 4 sub-tests which includes Listening, Reading, Writing, Speaking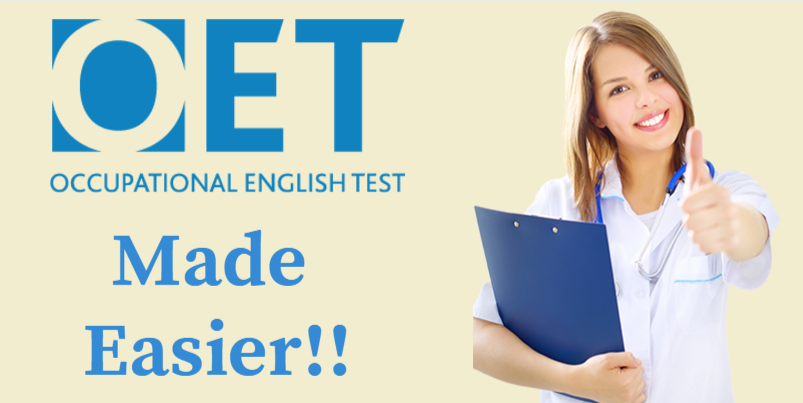 About the Listening sub-test
The Listening sub-test consists of three parts, and a total of 42 question items each consisting of 1 mark. The total length of the Listening audio is about 40 minutes, including recorded speech and pauses to allow you time to write your answers. You will hear each recording once and are expected to write your answers while listening.
The Listening sub-test structure
Part A – consultation extracts (about 5 minutes each)
In Part A you will listen to two recorded health professional-patient consultations and you will complete the health professional's notes using the information you hear. Each recording consists of 12 fill ups.
Note: the health professionals may be any one of the 12 professions who can take OET.
Part B – short workplace extracts (about 1 minute each)
In Part B you will listen to six recorded extracts (e.g. team briefings, handovers, or health professional-patient dialogues) and you will answer one multiple-choice question for each extract.
Part C – presentation extracts (about 5 minutes each)
In Part C you will listen to two different extracts and you will answer six multiple-choice questions for each extract.
How is the listening test scored?
Your answers for Part A are double-marked by trained OET assessors.
These answers are randomly assigned to assessors to avoid any conflict of interest. Your answers for Part B and Part C are computer scanned and automatically scored. For Part A, Listening assessors use a detailed marking guide which sets out which answers receive marks. Assessors use this guide to decide whether you have provided enough correct information to be given the mark. Assessors are monitored for accuracy and consistency.
About the Reading sub-test
The Reading sub-test consists of three parts and a total of 42 question items each consisting of 1 mark. All three parts take a total of 60 minutes to complete.
The Reading sub-test structure
Part A – (15 minutes)
Part A comprises of four short texts related to a single healthcare topic, and you must answer 20 questions in the allocated time period. The 20 questions consist of matching, sentence completion and short answer questions.
Part B and Part C – (45 minutes)
Part B contains 6 extracts from policy documents, hospital guidelines, manuals or internal communications, such as emails or memos. For each text, there is one three-option multiple-choice question.
Part C contains two texts for which, you must answer eight four-option multiple choice questions each.
How is reading ability assessed in OET?
Assessors who mark the Reading sub-test are qualified and highly trained. Candidate responses are assessed against an established marking guide. During the marking session, problematic or unforeseen answers are referred to a sub-group of senior assessors for guidance.
About the Writing sub-test
The Writing sub-test takes 45 minutes and is profession-specific. Likewise if you are a nurse you would be getting this task relevant to your profession or a dentist would be getting his profession related case notes to write a letter from and so on.
The Writing sub-test structure
The task is to write a letter of 180-200 words, usually a referral letter. Sometimes a different type of letter is required: e.g. a letter of transfer or discharge, or a letter to advise or inform a patient, carer, or group.
Along with the task instructions, you will receive stimulus material (case notes and/or other related documentation) which includes information to use in your response.
You will be given 5 minutes to read the case notes without using your pencil. Later you get 40 minutes to write the letter in the answer sheet provided.
How is writing ability assessed in OET?
Your performance on the Writing sub-test is marked independently by a minimum of two trained Assessors. Neither Assessor knows what scores the other has given you, or what scores you have achieved on any of the other sub-tests.
Your performance is scored against five criteria and receives a band score for each criterion:
Overall Task Fulfillment
Appropriateness of Language
Comprehension of Stimulus
Linguistic Features (grammar and cohesion)
Presentation Features (spelling, punctuation, layout)
About the Speaking sub-test
The Speaking sub-test is delivered individually and takes around 20 minutes. In each role-play, you take your professional role (for example, as a nurse or as a pharmacist) while the interlocutor plays a patient, a client, or a patient's relative or carer.
The Speaking sub-test structure
In each Speaking test, your identity and profession are checked by the interlocutor and there is a 2-3 minutes short warm-up conversation about your professional background. Then the role-plays are introduced one by one and you have three minutes to prepare for each. The role-plays take about five minutes each.
Role-plays
You receive information for each role-play on a card that you keep while you do the role-play. The card explains the situation and what you are required to do. You may write notes on the card if you want. If you have any questions about the content of the role-play or how a role-play works, you can ask them during the preparation time.
How is speaking assessed in OET?
The whole Speaking test is recorded and it is this audio recording that is assessed
The Speaking sub-test is marked independently by a minimum of two trained OET Assessors. Neither Assessor knows what scores the other has given you, or what scores you have achieved on any of the other sub-tests. Your test day interlocutor plays no role in the assessment of your performance.
Your performance on each of the two role-plays is scored against nine criteria and receives a band score for each criterion:
Intelligibility (including pronunciation, intonation, stress, rhythm, and accent)
Fluency (including rate and flow of speech)
Appropriateness of Language (including use of language, register, and tone that are suitable for the situation and the patient)
Resources of Grammar and Expression (including range and accuracy of language, ability to paraphrase when required, and capacity to maintain cohesion in longer utterances)
Relationship-building (including initiating the interaction appropriately, demonstrating an attentive and respectful attitude, adopting a non-judgemental approach, and showing empathy for the patient's predicament)
Understanding and incorporating the patient's perspective (including eliciting and exploring the patient's concerns, picking up cues from the patient about his/her needs, and relating explanations to the patient's concerns and needs)
Providing structure (including sequencing the interaction purposefully and logically, using techniques for organising explanations, and signposting changes in topic)
Information-gathering (including appropriate use of open or closed questions, avoiding compound or leading questions, supporting the patient's narrative with active listening, clarifying statements that are vague or need amplification, and summarising information to encourage correction or invite further information)
Information-giving (including establishing what the patient already knows, giving information in appropriate-sized chunks, checking whether the patient has understood information, and discovering what further information the patient needs).
How is the test scored?
You will receive a Statement of Results which shows your score for each of the four sub-tests, on a scale from 0 to 500. Each of the four sub-tests is assessed in a specific way.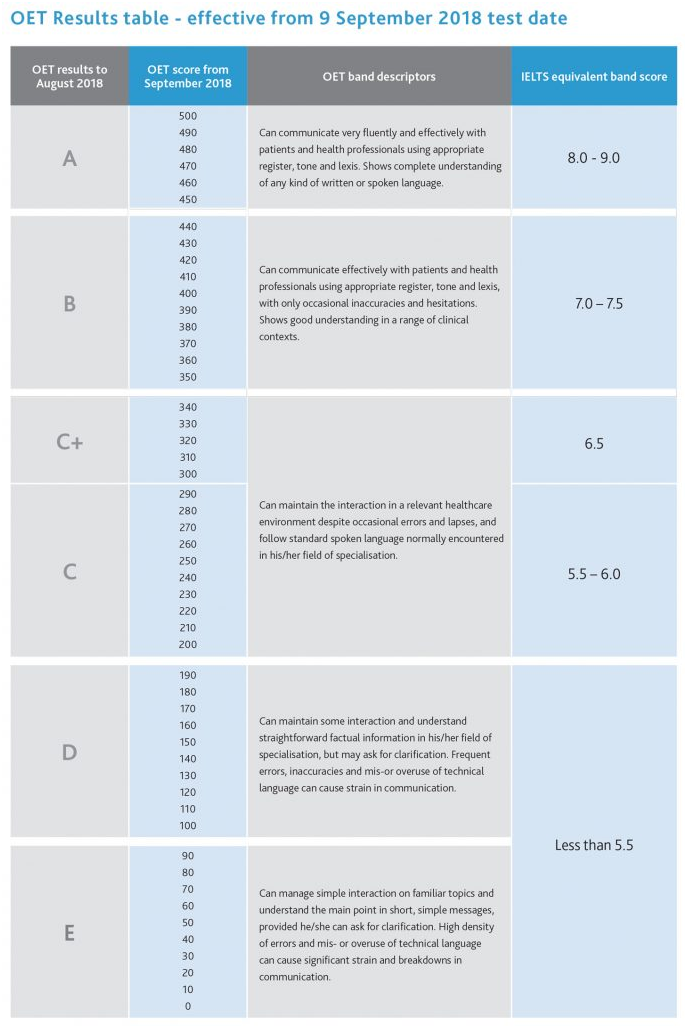 Timing and results
OET is available up to 12 times a year and can be taken at test venues around the world. A full list is available on the www.occupationalenglishtest.org . Results are published online approximately 16 business days after the test. Official statements of results are sent out in the post following the release of online results. There is no overall grade – candidates receive separate grades for each sub-test.
---